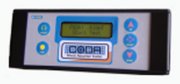 The Coda Shock Absorber Tester can test the Shocks on every vehicle that enters your workshop in Minutes.
Its Lightweight, handheld, battery powered and simple to operate.
Each shock can be tested independently for an instant result on the inbuilt LCD screen or, for a more detailed display, all four shock absorbers can be tested and the results downloaded to a PC via the USB lead & software provided.
The PC software displays a detailed trend graph of full shock motion and rebound. A Colour coded Pass/Fail status is clearly displayed for print out to client.
The Coda Shock Absorber Tester works on any make and model.